Hey guys!
As part of my work with the Center for Small Towns at the university, I have been supporting Battle Lake Community Conversation Forum (which is closely associated with Battle Lake Indivisible) organize a talk in Fergus Falls given by Dr. Mark Seeley. The event is titled Climate Change in Otter Tail County, Dr. Seeley will be discussing how climate will change in Western Minnesota and what that will mean for everyone that live and work here.
Dr. Seeley is a former University of Minnesota faculty member, and now does a lot of broadcasting for Minnesota Public Radio. He has also won numerous awards for his work on climate and agriculture, and has written two books that will be for sale at the event.
After the talk, Dr. Seeley will take questions and be signing books.
The talk will be given on Thursday April 2, at 7:00PM at A Center for the Arts in Fergus Falls.
A week night might be a tough night for a lot of you to drive an hour to Fergus Falls and back, but it is free and there will be free coffee and baked goods provided. Besides how often do you get to see a famous scientist talk/MPR broadcaster in person, get to personally ask him questions, and potentially have him sign a book?
Here are the posters, if you would like a PDF file of them or a physical copy let me know and that can be arranged.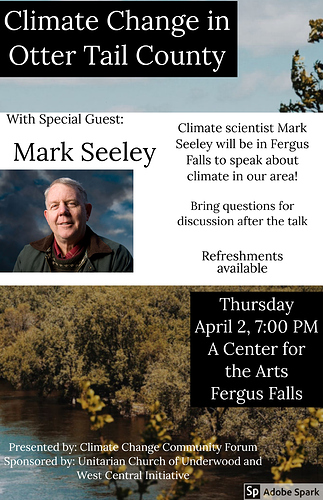 In case you want to invite your Facebook friends, here's a link to the Facebook event:
https://www.facebook.com/events/149804649465150/
Thanks for reading and hopefully I will see you at the event! (provided that the university does not coronacancel more travel)